Casio CDP-S150 Compact Digital Piano
Out of stock
Casio CDP-S150 is an excellent digital piano for beginners players looking for portability, sound variations & rhythms at an affordable price.
Product Includes
Casio Music Rest
Casio AC Power Adaptor
Casio Portable Sustain Pedal
Casio User Manual
Bench Based on Selected Bundle Deal Option
1 Year Local Warranty (Fulfilled by Casio Singapore)
Free Delivery & Assembly in Singapore only on LIFT LANDING FLOORS (Additional charges for carrying up the stairs)
Purchase Your Optional Accessories Here
*Also, please check the latest model Casio CDP-S160
Add to Wishlist
Slim, Simple and Affordable 88-Key Digital Piano – Casio CDP-S150
Slim body just 232 mm in depth
Casio has applied its highly compact construction technologies to achieve a size that is even smaller than the previous CDP series. This compact piano can be played anywhere, in your own style.
---
The natural tone changes for dynamic piano sound
Comes with 10 built-in high-quality sounds, including a grand piano. You can express subtle differences in tone by adjusting the force with which you strike the keys.
---
Scaled hammer action keyboard II
For the new CDP-S series, Casio has significantly reduced the size of the action mechanism that simulates the weight of the hammers in a grand piano. This allows for a keyboard with a responsive touch in an amazing slim body.
---
Supports battery operation
In addition to household electrical power, the CDP-S supports battery operation, allowing players to freely enjoy performing anywhere.
---
Chordana Play for Piano app provides users a smart and easy-to-use operation
Supported Casio Digital Piano models: AP-470, AP-270, PX-870, PX-770, CDP-S100, CDP-S150, CDP-S350, PX-S1000, PX-S3000

Some features, such as the available functions, screen displays and names, differ depending on the model.
Check the App Store or Google Play for information on supported OS and models.
Refer here also for information on what is needed for connecting the smart device and the piano and the connection method used.
Piano Remote Controller
Connect your smartphone or tablet to a compatible Casio digital piano to control various settings.
Select tone, play internal songs and more from the screen on your device.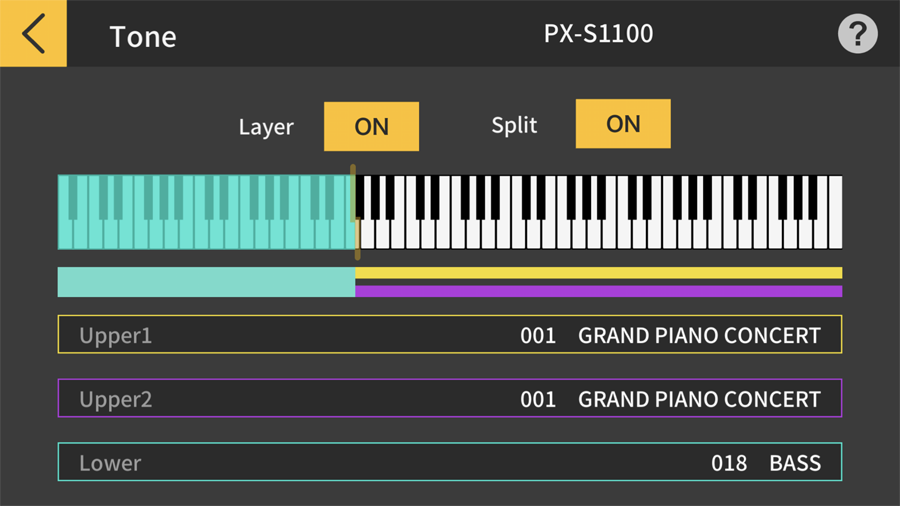 Use the easy-to-understand icons for intuitive control.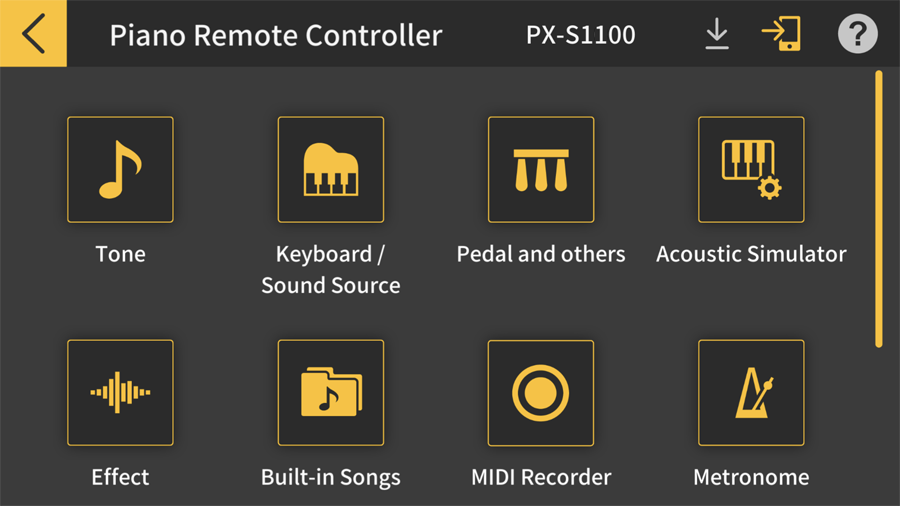 You can also check settings not directly visible on the instrument itself, such as the tuning frequency readout (Hz) and temperament type.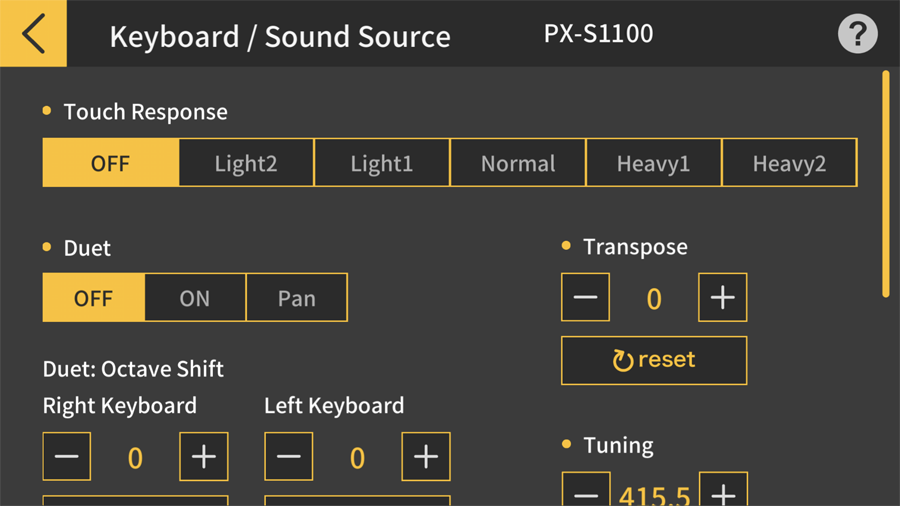 PDF Score Viewer
The viewer can display the PDF sheet music of 60 songs in the Music Library. It can also be used as a regular PDF file viewer.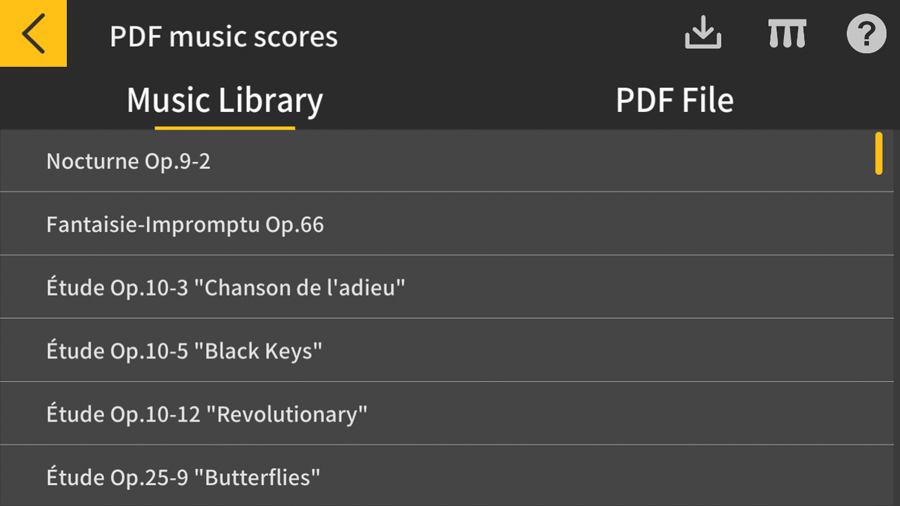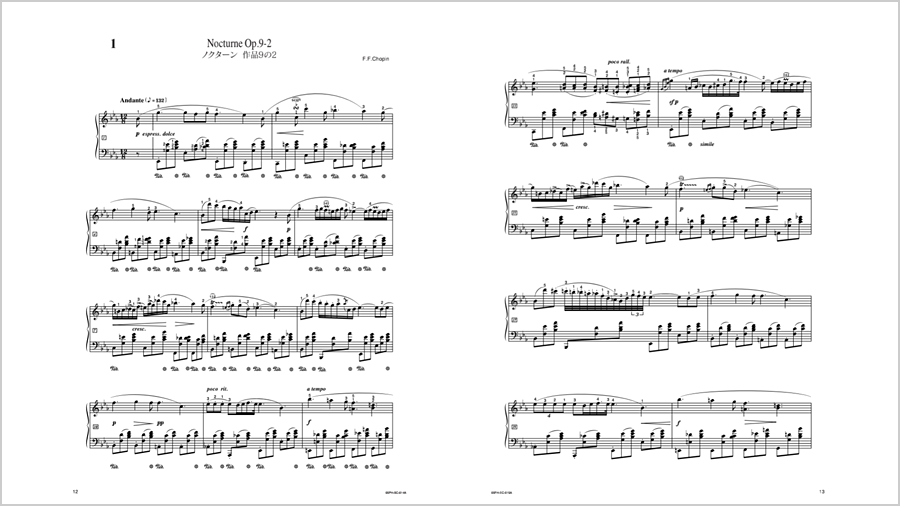 Connecting the smart device via a USB cable enables CDP-S100, CDP-S150, CDP-S350, PX-S1000 and PX-S3000 users to use the 3-pedal unit (SP-34) or the damper pedal (SP-3 single-pedal unit) as a page turner.
Users of models that do not support page turning can still access page-turning capability by using a third-party Bluetooth page turner.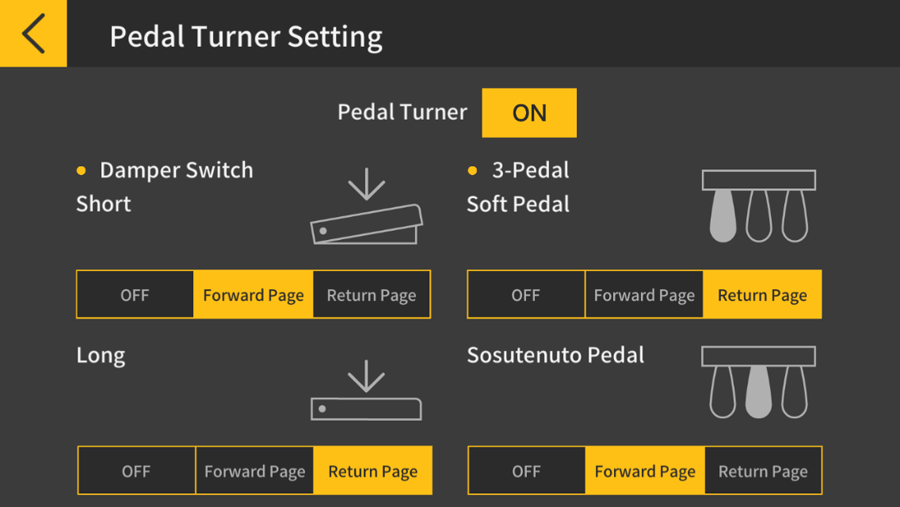 Descriptions of Built-in Songs
You can view descriptions for the app's built-in songs and for the composers.
Users of the models listed below can listen to the music library built into the piano.
AP-470, AP-270, PX-870, PX-770, PX-S1000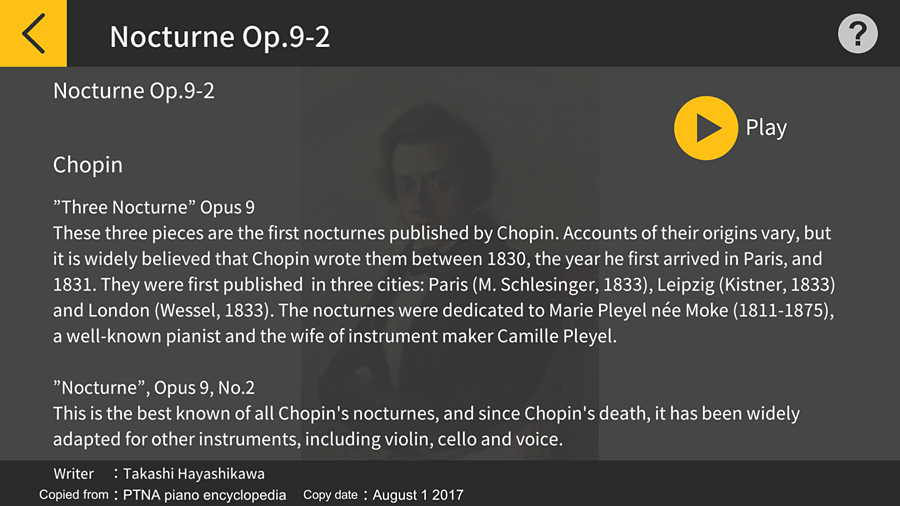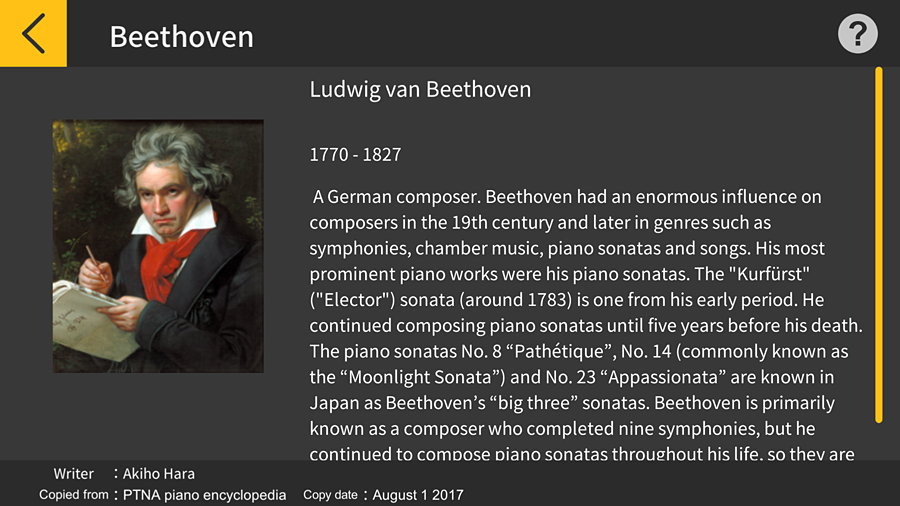 MIDI Player
Visually check the next key or keys to be played, and display them in the piano roll window. Play at your own pace using the tempo adjustment and AB repeat features. Keep track of your improving skills and make practicing more fun with the in-built scoring system.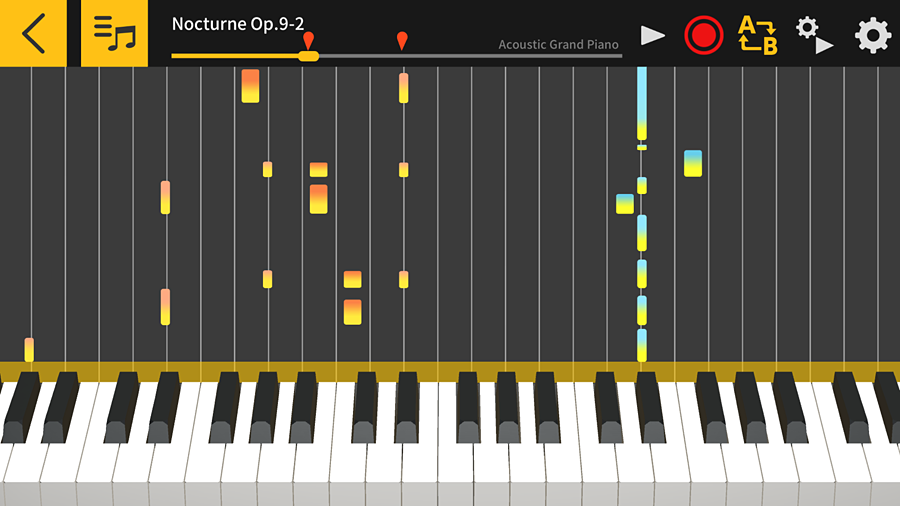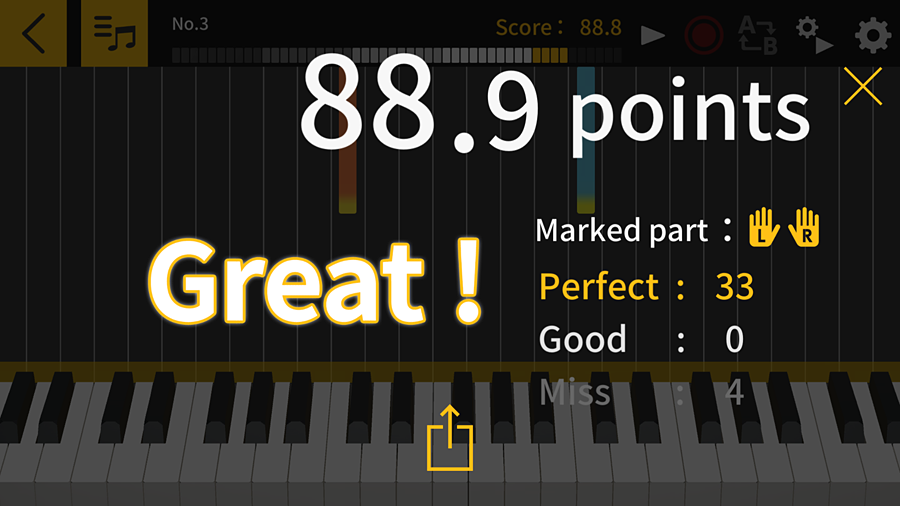 The app includes a music library with a collection of 60 songs that even beginners can enjoy listening to and playing, as well as Beyer's Vorschule im Klavierspiel Op. 101 (106 songs), Burgmüller's Easy and Progressive 25 Studies Op. 100 (25 songs), Bach's Inventions (15 songs), and Hanon Le Pianiste Virtuose en 60 Exercices (3 songs). You can also add your own MIDI files to supplement the internal song collection. Either search for MIDI files using your smartphone or tablet, or import MIDI files that you already own into the app.
*201 songs: Number excluding duplicates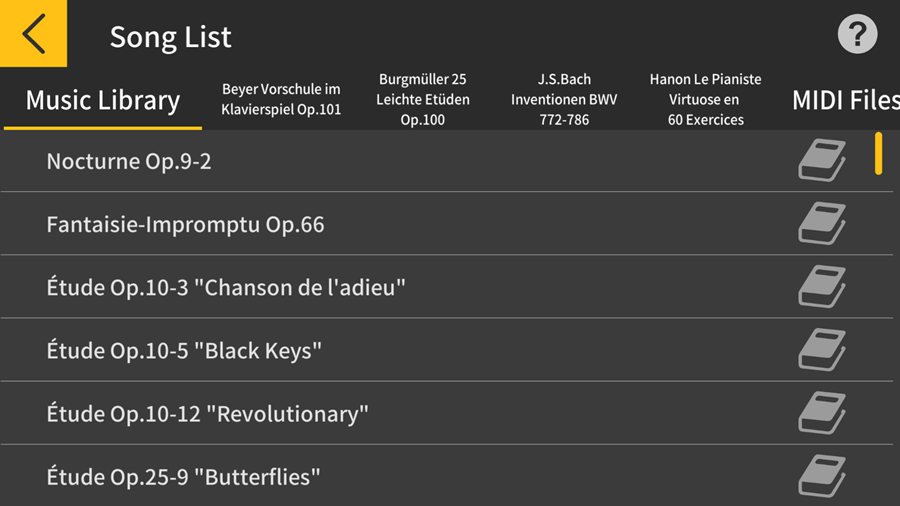 Audio Player
Play back audio on your device with musical tools such as key shift and tempo change, looping, and melody cancel.
* With some audio files, melody cancel may not be able to cancel the entire melody.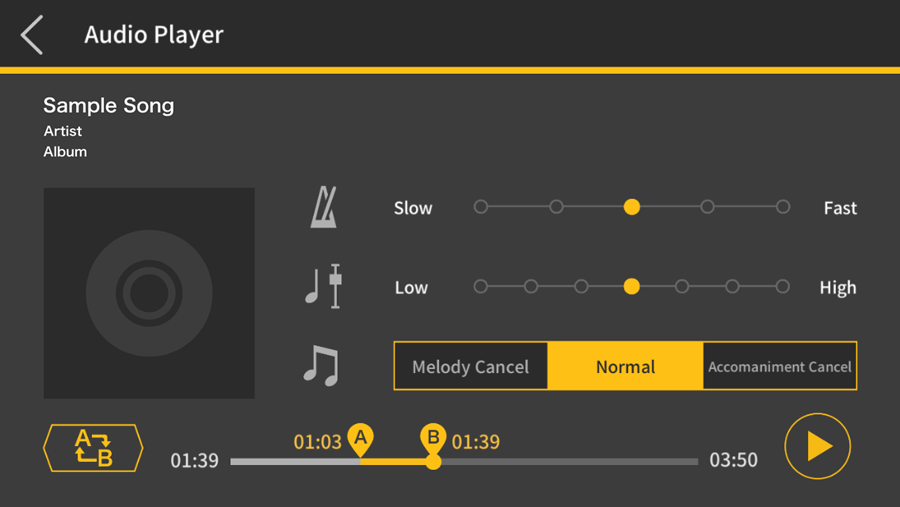 ---
Use your favorite device to adjust your CDP-S series settings, select Tones, and more.
Display music scores saved as PDF files, with pedal-activated page turning.
Audio Player
Play back audio on your device with musical tools such as key shift and tempo change, looping, and melody cancel.
MIDI Player
Play back your favorite MIDI songs.
---
Connection method
Connection method differs according to smart device model.
Keyboard

88-key piano keyboard, with Touch Response

Maximum Polyphony

64 notes

Tones

10, Layer

Effects

Reverb (4 types), Chorus (4 types)

Metronome

Beat bell: 0 (Off), 1 to 9 (beats)
Tempo Range: 20 to 255

Demo Songs

2

Recorder

Functions: Real-time recording, playback
Number of Song: 1
Capacity: Approximately 2,500 notes total
Recorded Data Protection: Built-in flash memory

Pedals

Damper (Soft and sostenuto pedal operations enabled by the optional SP-34 Pedal Unit.)

Other Functions

Touch Response: 3 types, Off
Transpose: –12 to 0 to 12 semitones
Tuning: A4 = 415.5 Hz to 465.9 Hz (Initial Default: 440.0 Hz), variable in 0.1 Hz steps
Scale Tuning (Temperament): Equal + 16 other types

MIDI

16-channel multi-timbre receive

Inputs/Outputs

PHONES/OUTPUT jack: Stereo mini jack (3.5mm)/ Output Voltage: 1.2V (RMS) MAX
Power: 12V DC
AUDIO IN jack: Stereo mini jack (3.5mm)/ Input impedance: 10kΩ/ Input voltage: 200mV
USB port: TYPE B
DAMPER PEDAL jack: Standard jack (6.3mm)
PEDAL UNIT jack: Special jack

Speakers

12cm x 6cm (Oval) x 2 (Output 8W + 8W)

Power Supply

2-way
Batteries: 6 AA-size alkaline batteries
Battery Life: Approximately 13 hours continuous operation on alkaline batteries
AC Adaptor: AD-A12150LW
Auto Power Off: Approximately 4 hours (AC Adaptor) / 6 minutes (batteries) after last operation; can be disabled.

Power Consumption

8W

Dimensions

132.2 (W) x 23.2 (D) x 9.9 (H) cm (52 1/16 x 9 1/8 x 3 7/8 inch)

Weight

Approximately 10.5kg (23.1 lbs) (without batteries)

Included Accessories

Pedal (SP-3), Music Stand, AC Adaptor (AD-A12150LW)

EAN code

4971850362456
| | |
| --- | --- |
| Bundle Deal Options | Adapter + SP3, Adapter + SP3 + X-Bench, Adapter + SP3 + Standard Bench, Adapter + SP3 + Storage Bench, Adapter + SP3 + Adjustable Height Bench |
Save up to

11.5%

Save up to

$

210.00

Only

$

1,520.00

Rated 5.00 out of 5

$

1,520.00 –

$

1,629.00