Yamaha DTX6K2-X Electronic Drum Set
Yamaha DTX6K2-X electronic drums feature a DTX-PRO sound module, FP7210A foot pedal, and DS550U drum stool.
Product Includes
Yamaha DMR6 Module
AC Power Adaptor
Yamaha DS550U Drum Stool
Yamaha FP7210A Single Kick Pedal
Yamaha HS650A Hi-Hat Stand
1-year Local Yamaha Warranty – LEARN MORE
Free Delivery in Singapore
Select Option with Assembly if required
Drumsticks and Drum Monitors are not Included
Yamaha DTX6K2-X is in Limited Stock, please have a chat with us first!
Yamaha DTX6K2-X 8-Piece Electronic Drum Kit with DTX-PRO
A powerful, engaging drumming experience with compact convenience
The DTX 6 series features the DTX-PRO module with the innovative KIT MODIFIER, sparking creativity and delivering superb performance in a compact configuration. The original Yamaha TCS (Textured Cellular Silicone) head used in the flagship models combines with real sound and ambiance recorded in a world-renowned studio to provide an authentic playing experience. The DTX6 Series is recommended for all drummers who want to have fun, play like a pro, need a compact kit, and hope to easily transfer their skills to acoustic drums.
Yamaha DTX6K2-X Features
Real sounds that drive the drummer
No compromise has been made in recording the sound of the instruments themselves—key to any drum sound, along with the ambiance of the place where they are played. The DTX PRO has been fine-tuned to follow the drummer's performance and allow for maximum expression.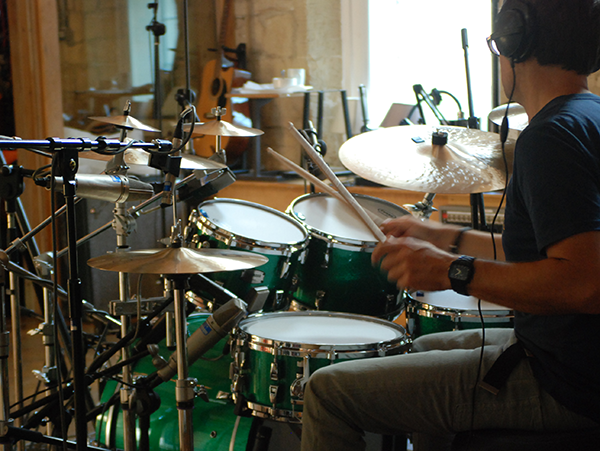 Intuitive functionality that stirs creativity
The Kit Modifier featured on the DTX-PRO offers drummers limitless possibilities for their creativity.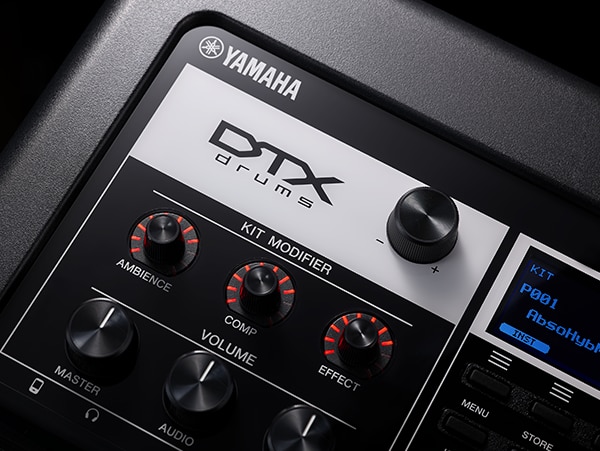 A playing experience in a class of its own
The DTX6 series is equipped with the TCS (Textured Cellular Silicone) heads, providing unparalleled levels of feel and quietness.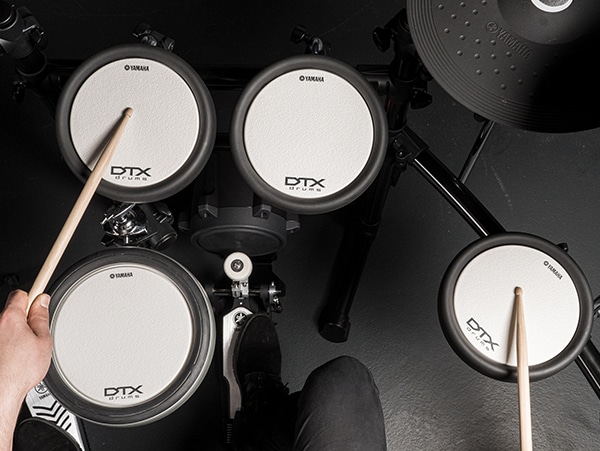 Superbly Playable
Reproducing the way an acoustic drum behaves when struck is a key factor in the playability of electronic drums. Our electronic drums feature a sound module that covers the full range of sound from the initial attack to the final cutoff, all based on samples of authentic drums tuned by a skilled engineer. We have carried out exhaustive testing of how acoustic drums respond when they're hit to help achieve a truly faithful representation of drum behavior. Moreover, professional drummers from around the world have evaluated the performance of the DTX-PRO, allowing us to improve its expressive capabilities even further. The combination of expertise that we have accrued as a manufacturer of music hardware has allowed Yamaha to offer combinations of expertly crafted modules and pads that deliver superb playability.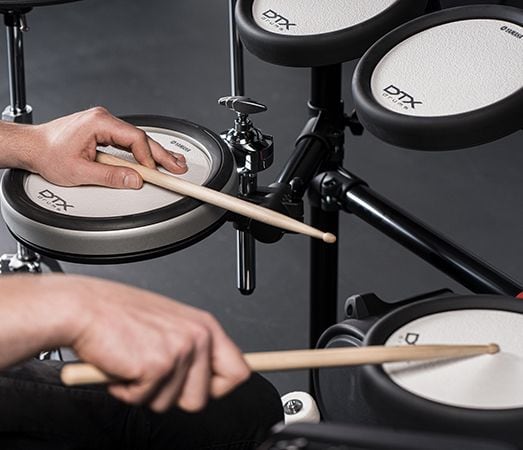 High-performance sound engine that recreates sound creation
The high-performance sound engine equipping the DTX-PRO leverages the technologies that Yamaha has acquired over decades of making musical instruments of all kinds. With authentic acoustic and live drum sounds, the same high-end effects found in professional-grade synthesizers and audio equipment, and effect control functions that let you recreate the techniques of elite drummers with a single knob, the sound engine in the DTX-PRO even recreates the process of creating sound in recording studios and live performance scenarios.
As a complement to this, Yamaha drum pads feature pad sensing technologies that respond with precise accuracy to the actions of the player, delivering the ultimate expressive capability that is reflected in the sound.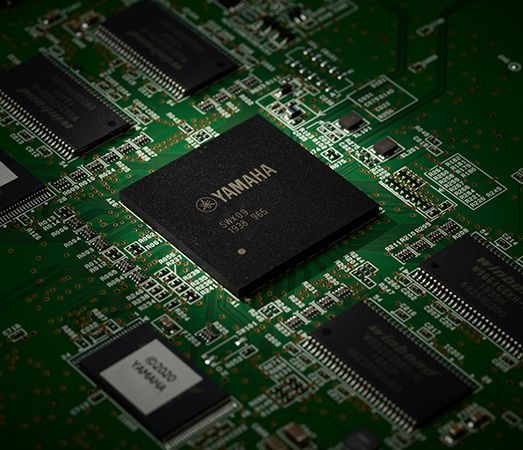 Reliable Yamaha Hardware
Yamaha's hi-hat stand HS650A is included with the DTX6K2-X and DTX6K3-X. All of the DTX6 Series also uses Yamaha's traditional ball clamps for snare pads, making fine adjustment of settings easy. Yamaha is also an acoustic drum maker and trusted by many professional drummers, for its robustness, ease of use, and stability.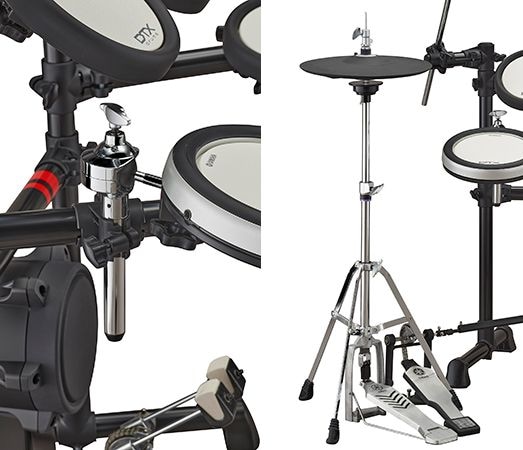 An extensive range of training functions to support drummers
The wealth of practice functions featured in DTX Drums are also found in the DTX-PRO. Make the most of a sophisticated programmable metronome, recorder function, 10 training functions that are ideal for training a sense of rhythm, as well as 37 training songs that allow you to learn various genres. Beginners and professionals alike will find the DTX6 training functions a useful aid for daily practice.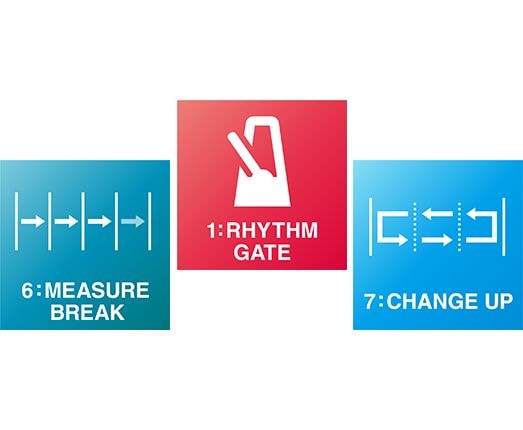 Professional-grade headphone amp
Offering high precision, low distortion, low noise, and high-power components, the headphone amplifier circuit delivers high-fidelity sound directly to the player and has been developed exclusively for electronic drums. Effectively combining a range of Yamaha circuit technologies with the power circuit provided independently for the headphone amplifier produces a powerful, high-quality sound that envelops the player in realistic drum tones.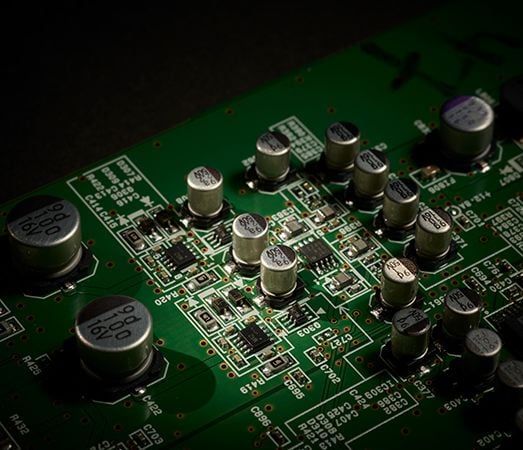 Cubase AI Included
The DTX-PRO comes equipped with the music production software "Cubase AI" and includes download information to allow users to download the latest version. Connect the DTX-PRO to your PC with a USB cable to perform the recording, editing, and mixing tasks that are the heart of music production—all in one software program.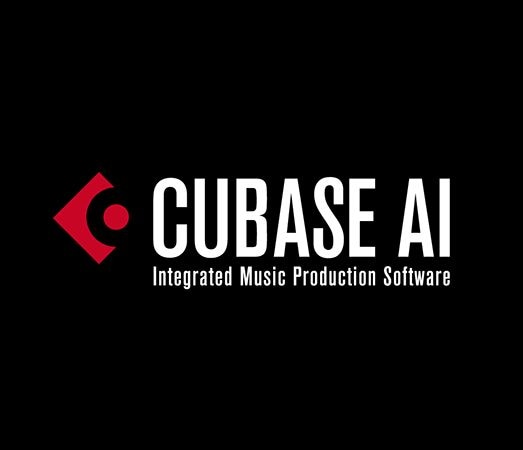 DTX6K2-X Specifications
PAD SETS
MODEL
Yamaha DTX6K2-X
SNARE
XP80 (8 inch TCS pad with 3 zone)
TOM PAD
TP70 (7 inch rubber pad)
FLOOR TOM PAD
TP70 (7 inch rubber pad)
KICK PAD
KP90 (7.5 inch rubber pad with Multi layer cushion)
HI-HAT PAD
RHH135 (13 inch pad with 2 zone)
CRASH CYMBAL 1
PCY135 (13 inch pad with 3 zone)
CRASH CYMBAL 2
PCY135 (13 inch pad with 3 zone)
RIDE CYMBAL
PCY135 (13 inch pad with 3 zone)
HI-HAT STAND
HS650A
FOOTPRINT (AVERAGE)
1,100 mm x 1,400 mm
WEIGHT
35.6 kg
TONE GENERATOR
WIDTH
303 mm (11-15/16 in)
HEIGHT
196 mm (7-11/16 in)
DEPTH
66 mm(2-5/8 in)
WEIGHT
1.5 kg (3 lb 5 oz)
MAXIMUM POLYPHONY
256 notes
MAXIMUM POLYPHONY
For each Inst: EQ / Comp / Transient / Insertion (*1), For each Kit: Ambience / Effect 1 / Effect 2 and Master Comp / Master Effect
For overall: Master EQ / Phones EQ (*1) Insertion effects can be used only for specific Inst.
DRUM KITS
Preset: 40 Kits, User: 200 Kits
VOICES
712
CLICK SETS
30
TEMPO
30 to 300 BPM, Tap Tempo supported
TIME SIGNATURES
1/4 to 16/4, 1/8 to 16/8, and 1/16 to 16/16
SUBDIVISIONS
Accents, quarter notes, eighth notes, sixteenth notes, and eight-note triplets
OTHERS
Individual click volume control, WAV import, timer
TRAINING TYPES
10
TRAINING SONGS
Preset: 37 songs, User: 1 song
AUDIO FILES IMPORT LIMIT
1,000 files
MAX LOADABLE SAMPLE TIME
760 seconds (44.1 kHz, 16 bit, mono), 380 seconds (44.1 kHz, 16 bit, stereo)
SAMPLE FORMAT
WAV
INTERNAL MEMORY RECORDING TIME
Maximum of 90 seconds
USB FLASHDRIVE RECORDING TIME
Maximum of 90 minutes per file
RECORDING FORMAT
Record/playback: WAV (44.1 kHz, 16 bit, stereo)
DC IN
DC IN (+12V)
HEADPHONES
Headphones (standard stereo phone jack x 1)
AUX IN
AUX IN (stereo mini jack x 1)
OUTPUT
OUTPUT L/MONO, R (standard phone jack, one for each)
USB
USB TO DEVICE, USB TO HOST
MIDI
MIDI OUT
TRIGGER INPUT
1, 14: (Standard stereo phone, L: Trigger, R: Rim switch / Trigger),
2/3, 4/5, 6/7, 12/13: (Standard stereo phone, L: Trigger, R: Trigger),
8, 9, 10, 11: (Standard stereo phone, L: Trigger, R: Rim switch)
*Maximum 14 of pads to be connected (when Y-cable is used)
DISPLAY
Full Dot LCD (128×64 dot)
ACCESSORIES
AC adaptor (PA-150 or an equivalent recommended by Yamaha)*, Owner's Manual, module holder, module holder wing bolts (x 4), Cubase AI Download Information
*May not be included depending on your area. Check with your Yamaha dealer.
| | |
| --- | --- |
| Bundle Option | Drums Only, Drums + Assembly |
| Brands | Yamaha |
| Types | Electronic Drums |
| Stock | Ready Stock |
Rated 5.00 out of 5

$

212.00