Yamaha CGS102A 1/2 Size Classical Guitar
Available on backorder
Yamaha CGS102A is a 1/2 size classical guitar commonly used at school with beautiful tonal woods and meticulous details, available in Natural (Gloss Finish).
Note: Please check out this page for a complete list of Yamaha Classical Guitars
Yamaha CGS102A is Pre-Order, please have a chat with us first!
Available on backorder
Add to Wishlist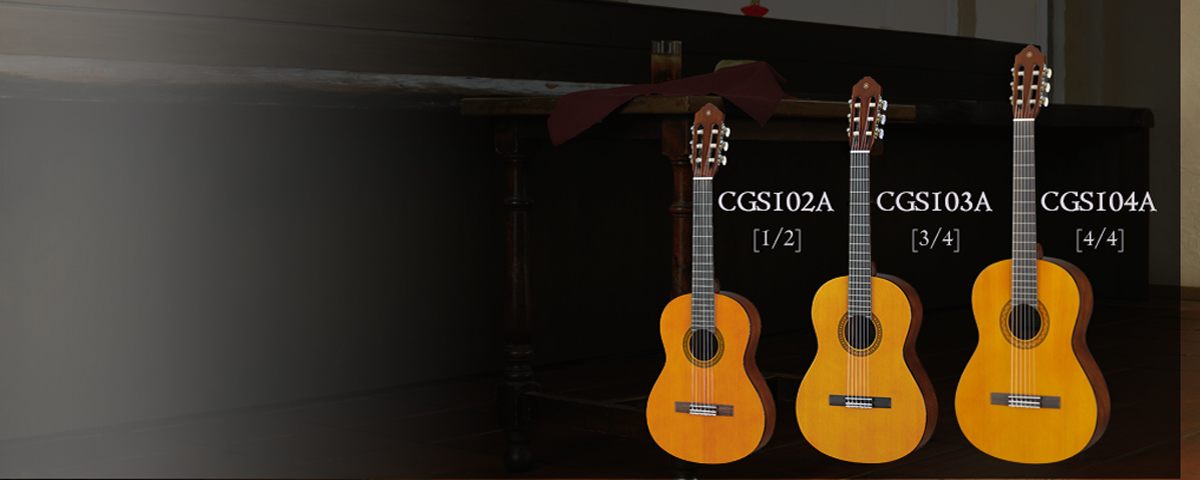 OVERVIEW:
This is Yamaha's smallest instrument. Its 21″ (535mm) scale length and 3-3/4″ (94-100mm) deep body provide a perfect fit for the youngest musicians. This petite size is the most difficult to produce properly, and many inexpensive "toy" guitars fill this range. But don't let them fool you. The CGS102 is a legitimate musical instrument, constructed with the beautiful tonal woods and meticulous details of a full-sized Yamaha guitar.
General Specifications
CGS104AII

CGS103AII

CGS102AII

General Specifications
Body Shape
Yamaha CG Shape
Yamaha CS Shape
CGS102 Original Shape
Scale Length
650mm (25 9/16")
580mm (22 13/16″)
535mm (21 1/16″)
Body Length
490mm (19 5/16″)
450mm (17 11/16″)
410mm (16 1/8″)
Total Length
995mm (39 3/16″)
920mm (36 1/4″)
858mm (33 3/4″)
Body Width
370mm (14 9/16″)
340mm (13 3/8″)
310mm (12 3/16″)
Body Depth
94-100mm (3 11/16″ – 3 15/16″)
84-88mm (3 5/16″ – 3 7/16″)
80-84mm (3 1/8″ – 3 5/16″)
Nut Width
52mm (2 1/16″)
48mm (1 7/8″)
48mm (1 7/8″)
String Spacing *
11.8mm
10.6mm
10.6mm
Top Material
Spruce
Spruce
Spruce
Back Material
Locally Sourced Tonewood **
Locally Sourced Tonewood **
Locally Sourced Tonewood **
Side Material
Locally Sourced Tonewood **
Locally Sourced Tonewood **
Locally Sourced Tonewood **
Neck Material
Locally Sourced Tonewood **
Locally Sourced Tonewood **
Locally Sourced Tonewood **
Fingerboard Material
Rosewood
Rosewood
Rosewood
Fingerboard Radius
Flat
Flat
Flat
Bridge Material
Rosewood
Rosewood
Rosewood
Nut Material
Urea
Urea
Urea
Saddle Material
Urea
Urea
Urea
Bridge Pins
None
None
None
Tuners
Chrome(RM-1252X)
Chrome(RM-1252X)
Chrome(RM-1252X)
Body Binding
Black
Black
Black
Soundhole Inlay
Decal
Decal
Decal
Pickguard
None
None
None
Body Finish
Gloss
Gloss
Gloss
Neck Finish
Matt
Matt
Matt
Electronics
None
None
None
Controls
None
None
None
Connections
None
None
None
Strings
Medium
Medium
Medium
Accessories
None
None
None
Case
None
None
None
| | |
| --- | --- |
| Brands | Yamaha |
| Types | Classical Guitars |
| Stock | Pre-Order |
Save up to

6.3%

Save up to

$

190.00

Only

$

2,730.00

Rated 5.00 out of 5

$

2,730.00 –

$

2,839.00

Save up to

8.9%

Save up to

$

84.00

Only

$

825.00

Rated 5.00 out of 5

$

825.00 –

$

864.00