Casio PX-S1000 Digital Piano Singapore
PROMO: PX-S1000 only $999 (Free Bench)
The PX-S1000 brings a fresh new design to the Privia series, bringing smart technology into your musical life.
Package includes
Casio AC Power Adaptor
Casio Music Rest
Casio SP-34 Tri Pedal Unit System
Casio CS-68 Piano Stand
Casio Portable Sustain Pedal
Dust Cover
Product Manual
Bench Based on Chosen Bundle Deal
One Year Warranty by Casio Singapore
Free Delivery & Assembly in Singapore only on LIFT LANDING FLOORS (Additional charges for carrying up the stairs)
Purchase Your Optional Accessories Here
*Check out the latest model of the Privia series: Casio PX-S1100
Add to Wishlist
Add to Compare
SKU:

1392421
Categories: 88 Keys (Hammer Response), AA Battery Operated Digital Piano, Bluetooth Speaker Digital Piano, Casio, Casio Privia Digital Piano Series, Chordana Play for Piano, Electric Pianos, On Sale
Tags: 88 keys digital piano, Casio, Casio Digital Portable Electronic Piano, Casio Electronic Musical Instruments, Digital Piano Operated With AA Battery, Digital Piano With Bluetooth Speaker, Privia By Casio Digital Piano Series
Making the most of Casio's compact construction technologies, the new Privia is significantly slimmer (20% slimmer depth than the previous model). The wedge-shaped case side highlight the slim design.
Among digital pianos with 88 hammer-action keys and built-in speaker, Casio survey as of January 2019.
Casio PX-S1000 Models
Black Finish
White Finish
Red Finish
---
Simple, stylish design for superior playability
With a clear, glossy finish and flat design with no protruding buttons, the LED operation panel features graphical touch sensors. The simple design focuses on the advanced functions, drawing attention to the keyboard and making it easier to concentrate on your performance.
---
The Multi-dimensional Morphing AiR sound source for beautiful, rich sounds reminiscent of a grand piano
Rich and expressive piano sound for natural performance
In addition to the changes in volume and tone that are dependent on the force used to play the keys, the tone heard throughout sustained notes has been dramatically improved for an even more expressive sound and authentic sound.
Acoustic Simulator expresses the real sound of a grand piano
Sympathetic string resonance exposes the harmonic relationships between vibrating strings, while damper resonance simulates the string release when the damper pedal is depressed. You'll even hear mechanical key sounds when playing with an exceptionally light touch or by removing a finger from a key, just like playing a real grand piano.
---
The newly developed Smart Scaled Hammer Action Keyboard dramatically reduces size without compromising the playing feel.
The new Privia delivers a significant reduction in the size of the action mechanism that simulates the weight of the hammers in a grand piano. In a slim body just 232mm deep, the keyboard offers a natural touch reminiscent of grand piano in an amazingly compact form.
Key-Off Response allows fast note repetition
The note-off timing is digitally controlled based on the movement of the keys during release. When hitting the same tone repeatedly, the next note can be produced before the key returns to its topmost position.
88-Key Digital Scaling realizes a grand piano-like touch
The touch of a grand piano varies with the differences in size and weight of the hammers over each of the 88 keys. The new Privia models deliver the feeling of playing a grand piano through a meticulous key-by-key digital simulation of these subtle differences in touch.
Simulated ebony and ivory keys with optimal fingertip fit for playing ease
Simulated ebony and ivory keys inhibit finger slippage due to sweat and produce the sensation of a comfortable fingertip fit that lasts even through extended sessions.
---
Connect via Bluetooth® to your devices
With Bluetooth audio, you can listen to music stored on your smart device through your Privia's speakers and play along with your favorite songs. You can also apply a surround effect, making playback feel more like a live performance.
Bluetooth® word mark and logo are registered trademarks of Bluetooth SIG, Inc. and any use of these marks by CASIO COMPUTER CO., LTD. is under license. All other trademarks and trade names are the property of their respective owners.
---
Chordana Play for Piano app provides users a smart and easy-to-use operation
Connect your Privia to your smart device, and easily access settings and additional features.
USB cable and adapter (sold separately) are required to connect a smart device to the Privia. (Audio Player is accessible through Bluetooth audio.)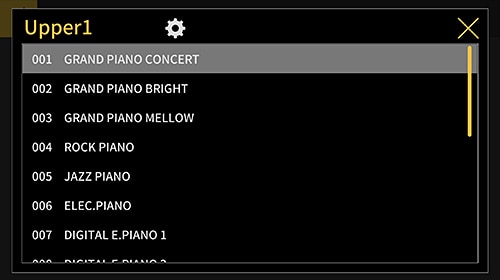 Piano Remote Controller
Use your favorite device to adjust your Privia's settings, select Tones, and more.
PDF Score Viewer
Display music scores saved as PDF files, with pedal-activated page turning.
Audio Player
Play back audio on your device with musical tools such as key shift and tempo change, looping, and melody cancel.
MIDI Player
Play back your favorite MIDI songs.
---
Connection method
Connection method differs according to smart device model.
Supported Casio Digital Piano models: AP-470, AP-270, PX-870, PX-770, CDP-S100, CDP-S150, CDP-S350, PX-S1000, PX-S3000

Some features, such as the available functions, screen displays and names, differ depending on the model.
Check the App Store or Google Play for information on supported OS and models.
Refer here also for information on what is needed for connecting the smart device and the piano and the connection method used.
Casio Privia PX-S1000 Piano Remote Controller
Connect your smartphone or tablet to a compatible Casio digital piano to control various settings.
Select tone, play internal songs and more from the screen on your device.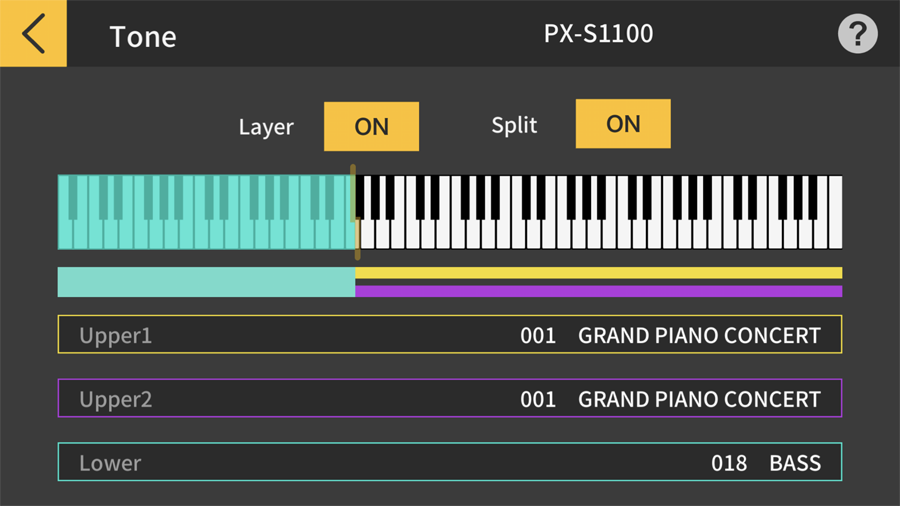 Use the easy-to-understand icons for intuitive control.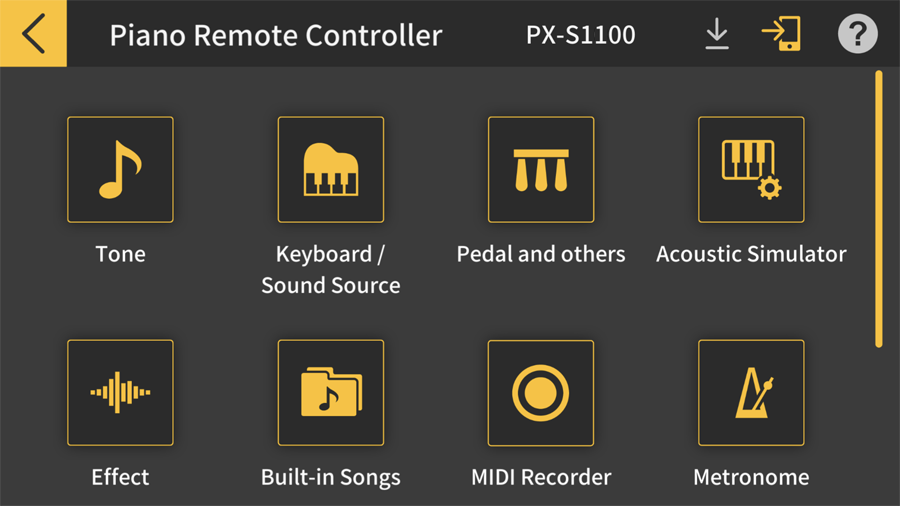 You can also check settings not directly visible on the instrument itself, such as the tuning frequency readout (Hz) and temperament type.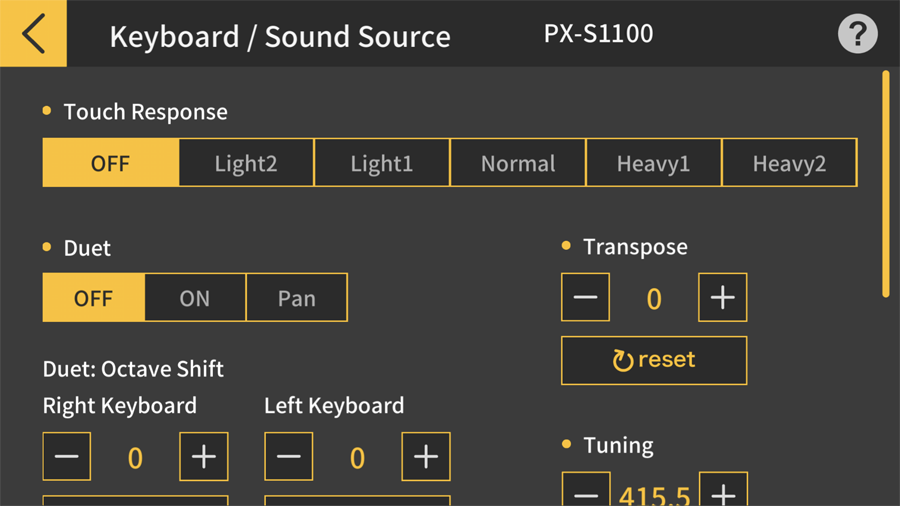 PDF Score Viewer
The viewer can display the PDF sheet music of 60 songs in the Music Library. It can also be used as a regular PDF file viewer.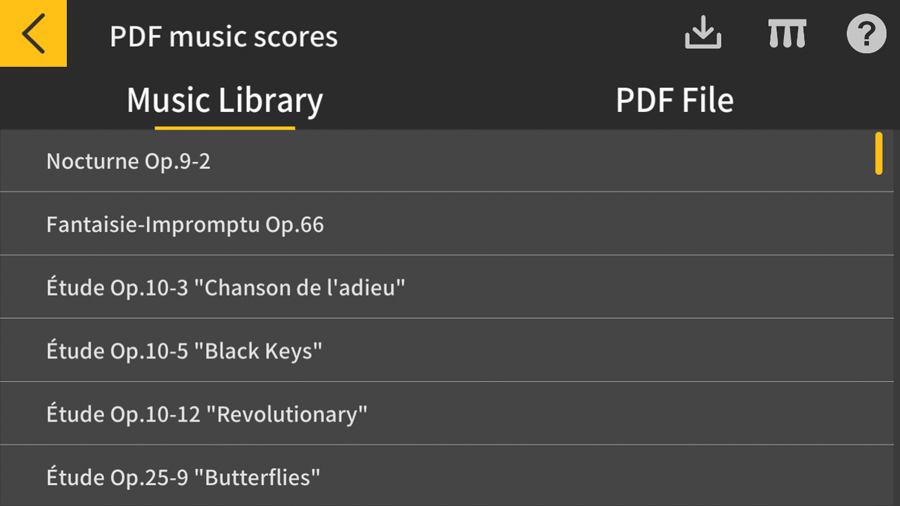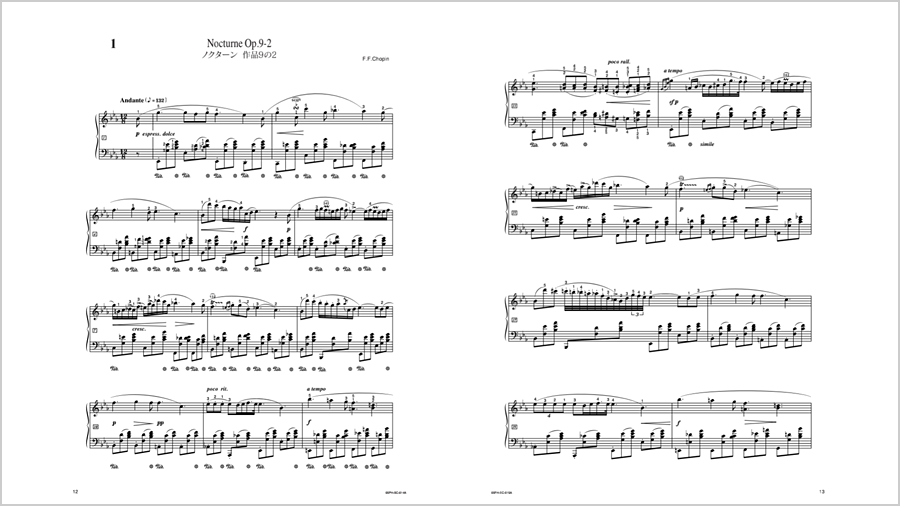 Connecting the smart device via a USB cable enables CDP-S100, CDP-S150, CDP-S350, PX-S1000 and PX-S3000 users to use the 3-pedal unit (SP-34) or the damper pedal (SP-3 single-pedal unit) as a page turner.
Users of models that do not support page turning can still access page-turning capability by using a third-party Bluetooth page turner.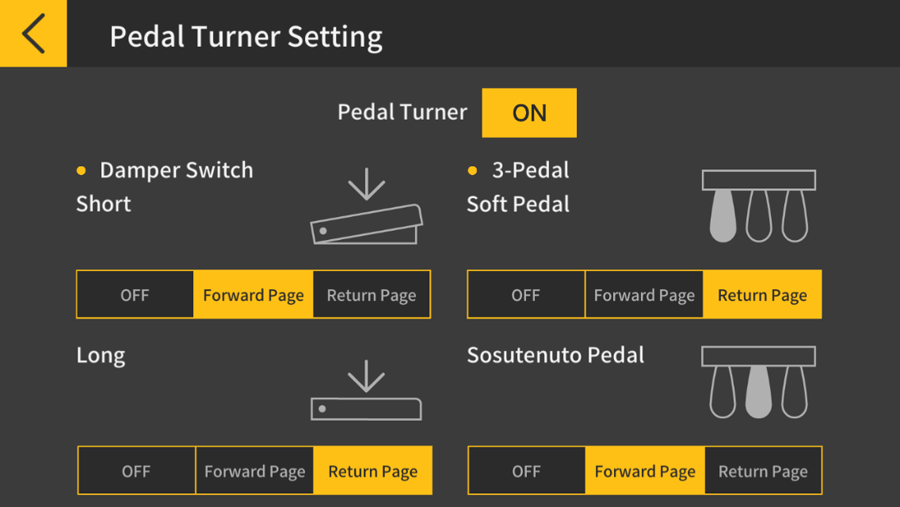 Descriptions of Built-in Songs
You can view descriptions for the app's built-in songs and for the composers.
Users of the models listed below can listen to the music library built into the piano.
AP-470, AP-270, PX-870, PX-770, PX-S1000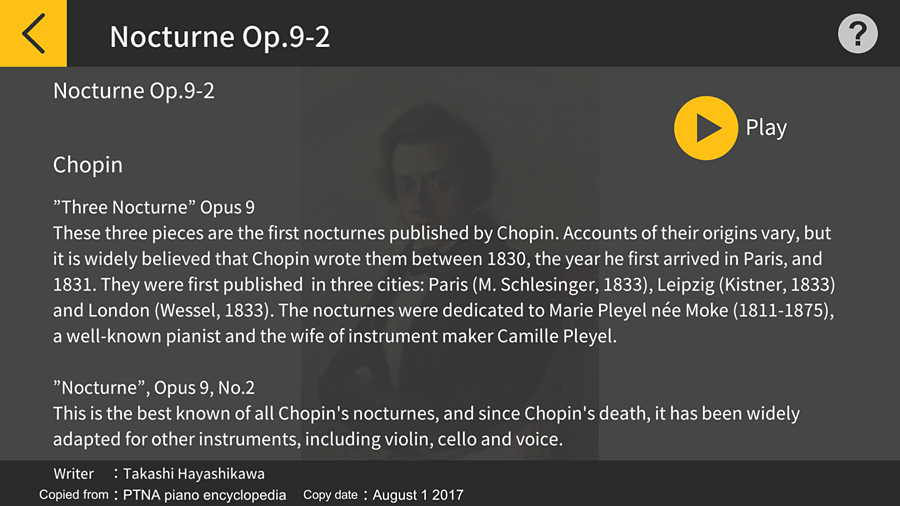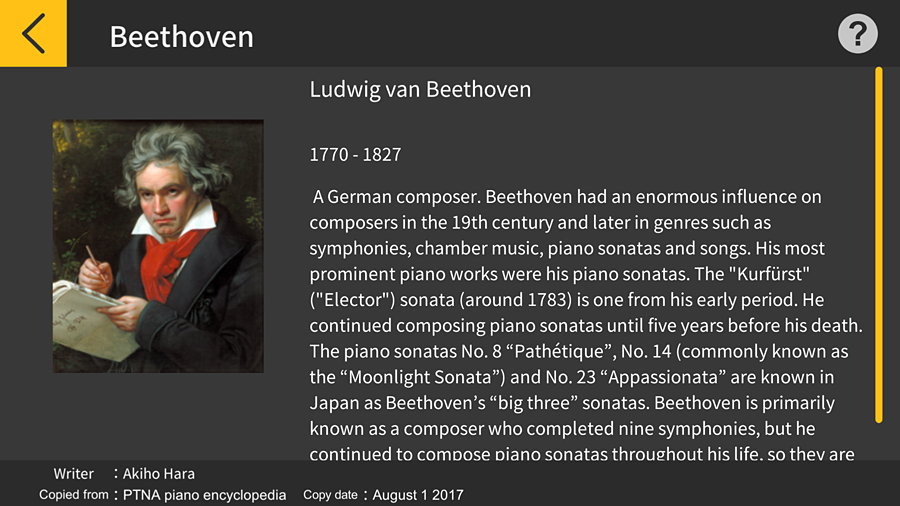 MIDI Player
Visually check the next key or keys to be played, and display them in the piano roll window. Play at your own pace using the tempo adjustment and AB repeat features. Keep track of your improving skills and make practicing more fun with the in-built scoring system.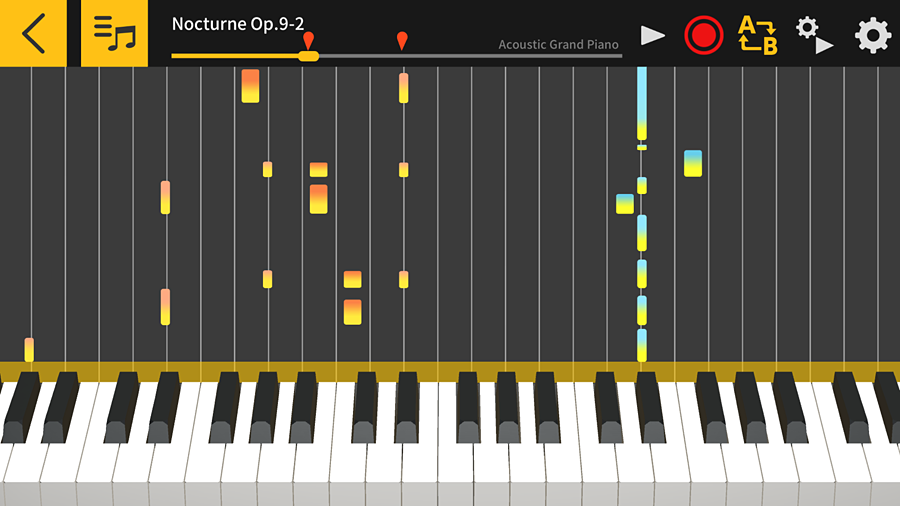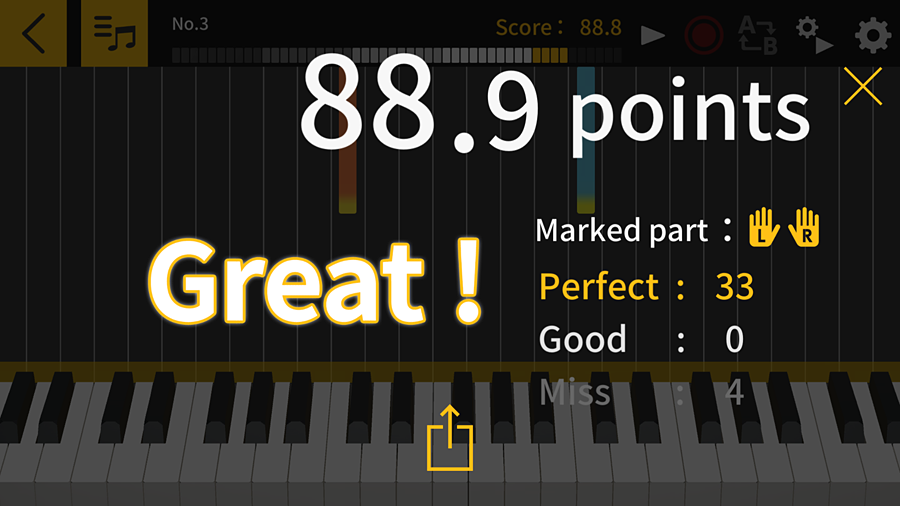 The app includes a music library with a collection of 60 songs that even beginners can enjoy listening to and playing, as well as Beyer's Vorschule im Klavierspiel Op. 101 (106 songs), Burgmüller's Easy and Progressive 25 Studies Op. 100 (25 songs), Bach's Inventions (15 songs), and Hanon Le Pianiste Virtuose en 60 Exercices (3 songs). You can also add your own MIDI files to supplement the internal song collection. Either search for MIDI files using your smartphone or tablet, or import MIDI files that you already own into the app.
*201 songs: Number excluding duplicates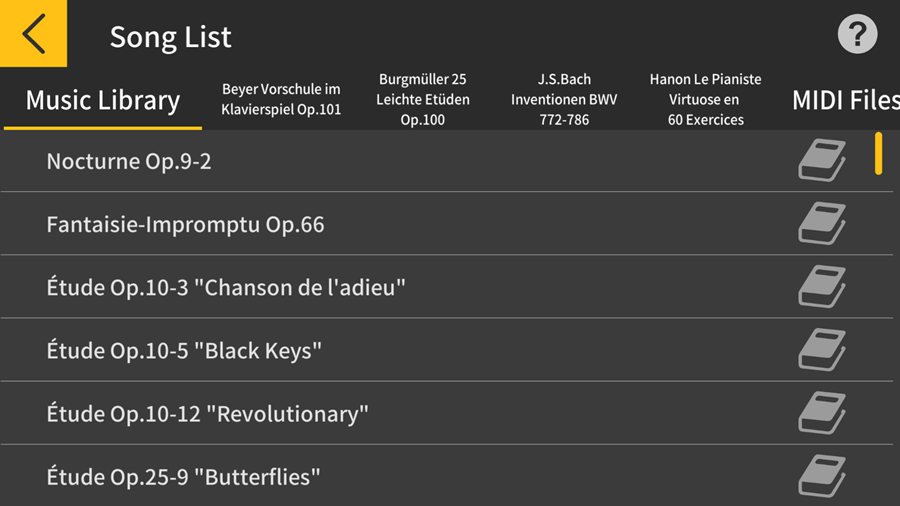 Audio Player
Play back audio on your device with musical tools such as key shift and tempo change, looping, and melody cancel.
* With some audio files, melody cancel may not be able to cancel the entire melody.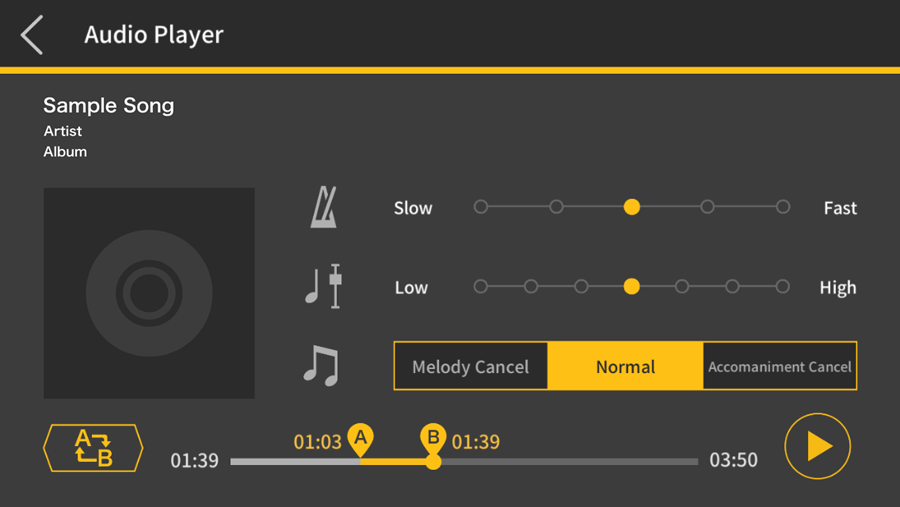 ---
Take your Privia with you, to actively enjoy your music anywhere.
The Privia supports battery power and has an optional dedicated case with a three-way design.
Electronic Musical Instruments AR
AR (augmented reality) is a technology that displays digital information created through computer graphics and other techniques on top of the real world. By using electronic musical instrument AR, you can use a smartphone or tablet to check whether the size and color of an instrument match the location where you want to put it. Give AR a try!
---
OS: iOS 13.1 or later, iPadOS
Browser: Safari, Chrome
Electronic musical instrument AR cannot be used from a PC. Please view the effect on a smartphone (iPhone 6s or later) or tablet (iPad 5th generation or later).
AR effects might not be displayed on some devices or in some OS environments.
Certain products might differ from their actual appearance in some cases.
Colors might not be accurately displayed depending on the environment. Use the electronic musical instrument AR in a well-lit area.
Access from a smartphone or tablet
---
Casio Privia PX-S1000 Specifications
Keyboard

88-key piano keyboard
Duet: Adjustable tone range (–2 to +2 octaves)
Transpose: –12 to 0 to +12 semitones
Octave shift –2 to 0 to +2 octaves

Sound Source

Number of Tones: 18 (17 full-keyboard tones + 1 low-range bass tone)
Layer (excluding bass tone)
Split (bass tone only in low range)
Maximum polyphony: 192 notes
Touch Response: 5 sensitivity levels, Off
Tuning: 415.5Hz to 440.0Hz to 465.9Hz (0.1Hz units)
Temperament: Equal temperaments plus 16 other types

Acoustic Simulator

Hammer response, Key off response, String resonance, Damper resonance, Damper noise, Key on action noise, Key off action noise

Sound Mode

Hall simulator (4 types), Surround (2 types)

Other Effects

Chorus (4 types), DSP, Brilliance (–3 to 0 to +3)

Demo Song

1

Music Library

Built-in Songs 60

User Songs: 10 (Up to approximately 90KB per song, approximately 900KB for 10 songs)

*

Based on 1KB = 1024 bytes, 1MB = 10242 bytes

Song volume: Adjustable (Setting also affects MIDI recorder song playback.)
Part On/Off: L, R

MIDI Recorder

Functions: Real-time recording, playback
Number of Song: 1
Number of Tracks: 2
Capacity: Approximately 10,000 notes total
Recorded Data Protection: Built-in flash memory
MIDI recorder volume: Adjustable (Setting also affects Music Library song playback.)

Metronome

Beat bell: Off, 1 to 9 (beats)
Tempo Range: 20 to 255
Metronome Volume Level: Adjustable

Pedals

Included SP-3 pedal assignable functions: Damper (off, on), sostenuto (off, on), soft (off, on), metronome (start, stop), tempo setting
Separately available SP-34 pedal unit: Damper (off, half, on), sostenuto (off, on), soft (off, on)

Other Functions

Auto Resume
Panel Lock
Notification tones (Selectable sets 1, 2, 3; Adjustable volume)

Bluetooth Connection

Bluetooth Version: 5.0
Supported Profile: A2DP
Supported Codecs: SBC
Wireless Output: Bluetooth Class 2
Transmission Frequency Range: 2402 to 2480 MHz
Maximum Wireless Output: 4 dBm

MIDI

16-channel multi-timbre receive

Inputs/Outputs

PHONES jacks: Stereo mini jacks (3.5mm) x 2
Power: 12V DC
AUDIO IN jack: Stereo mini jack (3.5mm)/ Input impedance: 10kΩ, Input voltage: 200mV LINE OUT R, L/MONO jacks: Standard jacks (6.3mm) x 2/ Output impedance: 2.3kΩ, Output voltage: 1.3V (RMS) MAX
USB port: Type B
DAMPER PEDAL jack: Standard jack (6.3mm)
PEDAL UNIT jack: Proprietary jack

Acoustics

Amp output: 8W + 8W
Speakers: 16cm x 8cm (oval) x 2

Power Supply

2-way
Batteries: 6 AA-size alkaline batteries
Battery Life: Approximately 4 hours continuous operation on alkaline batteries
Actual continuous operation time may be shorter due to battery type and performance type.
AC Adaptor: AD-A12150LW
Auto Power Off: Approximately four hours (under AC adaptor power) or six minutes (under battery power) after last operation, can be disabled.

Power Consumption

10W

Dimensions

132.2 (W) x 23.2 (D) x 10.2 (H) cm (52 1/16 x 9 1/8 x 4 inch)

Weight

Approximately 11.2kg (24.7 lbs) (without batteries)

Included Accessories

Pedal (SP-3), AC Adaptor (AD-A12150LW), Music Rest Stand
| | |
| --- | --- |
| Colour | Black, White, Red |
| Bundle Deal Options | PROMO Adapter + Sustain Pedal + Dust Cover + FREE Normal Bench, PROMO Adapter + Sustain Pedal + Dust Cover + Storage Bench, PROMO Adapter + Sustain Pedal + Dust Cover + Normal Adjustable Height Bench, PROMO Adapter + Sustain Pedal + Dust Cover + Double Seated Storage Bench, PROMO Adapter + Sustain Pedal + Dust Cover + Adjustable Height Bench With Storage |
Save up to

14%

Save up to

$

200.00

Only

$

1,150.00

Rated 5.00 out of 5

$

1,150.00 –

$

1,249.00
Save up to

23.9%

Save up to

$

465.00

Only

$

1,399.00

Rated 5.00 out of 5

$

1,399.00 –

$

1,498.00

Save up to

17.3%

Save up to

$

209.00

Only

$

930.00

Rated 5.00 out of 5

$

930.00 –

$

1,001.00

Save up to

14%

Save up to

$

40.00

Only

$

245.00

$

285.00