Casio Celviano AP-270 Digital Piano
Thoughtfully designed to compliment any décor, the AP270 is available in either a black, white or brown oak and includes a matching bench.
Product Includes
Bench based on chosen Bundle Deal Option
Casio AC Power Adapter
Casio Music Rest
Headphone
Red Key Cloth
Grey Cleaning Cloth
Product User Manual
1 Year Warranty (Fulfilled by Casio Singapore)
Free Delivery & Assembly in Singapore only on LIFT LANDING FLOORS (additional charges for carrying up the stairs)
Optional Accessories
Add to Wishlist
Add to Compare
SKU:

N/A
Categories: 88 Keys (Tri-sensor Scaled Hammer Action Keyboard II), Brands, Casio, Casio Celviano Digital Piano Series, Chordana Play for Piano, Digital Pianos, On Sale Musical Instruments
Tags: 88 keys digital piano, Casio, Casio Chordana Play for Piano, Casio Electronic Musical Instruments, Celviano By Casio Digital Piano Series
Sound Technology
Unprecedented Natural Reproduction of the Rich Expressive Power and Resonance of an Acoustic Piano
Multi-dimensional Morphing AiR Sound Source
The characteristics of CASIO's newly developed Multi-dimensional Morphing AiR*Sound Source reflect thorough attention to detail in expressing the rich, resonating tones inherent to the piano. The capacity of the installed memory has been expanded to achieve a longer sampling duration and enhanced waveform data quality. The temporal changes in tone that create sound you would expect only from a piano, beginning with the initial sound and leading into a beautiful extension until the sound eventually vanishes, are reproduced naturally.
AiR = Acoustic and Intelligent Resonator
Selection between 2 legendary grand piano sounds
The installed sounds of two world-renowned grand pianos are separately selectable, depending on the genre of the music being played and the performance environment.
A superior instrument for powerful, richly reverberating performances. It reproduces classic grand piano sounds across the range from soft, delicate tones to strong, powerful tones, depending on the weight of the keystrokes.
This is the right choice for bright, luxuriant performances. It makes its presence felt with crisp, straightforward sound, even when being played in a band. Its tonality is ideally suited to jazz and pop music.
---
Keyboard System
Natural Playing Feel Approaching That of a Grand Piano Firm Touch That Converts the Player's Thoughts into Sound
Tri-sensor Scaled Hammer Action Keyboard II, with a grand piano's unique sounding timing
The difference between the sound structures of a grand piano and a digital piano appears as a difference in timing, from the moment the instrument is played until the sound is audible. The new Tri-sensor Scaled Hammer Action Keyboard II responds by incorporating a system with three sensors that detect touches of the keys sequentially.
Simulated ebony and ivory keys with optimal fingertip fit for playing ease
The Simulated ebony and ivory keys offers the luxurious feel and texture as well as the smooth touch of a grand piano keyboard. The minutely detailed crimp surface finish inhibits finger slippage due to sweat and gives the sensation of a perfect fingertip fit, even when playing for extended periods.
---
An unprecedented evolution of the digital piano
Damper Resonance achieving a more naturally beautiful resonance than a pedal
The deep, beautiful resonance resulting from the use of a damper pedal is also reproduced naturally by a stereo resonance simulator installed on all 88 keys, an approach that differs from conventional simulated reproduction employing effect processing. The attention to detail goes so far as to simulate the resonance created by the lifting of the dampers themselves when the pedal is pressed.
Concert Play
High-quality audio data recordings of 10 live orchestra performances are installed. Pianists can play along with the recordings and enjoy the feeling of participating in a magnificent performance.
---
Versatile features
22 high-quality tones including stereo-sampled grand piano tones
Digital Effects: Reverb (4 types), Chorus (4 types), Brilliance, DSP (preset for some tones)
Connection to App (Chordana Play for Piano Special Site)
Lesson feature using 60 Music Library songs plus 10 user loaded songs
Duet Mode enabling two people to play in the same range
MIDI Recorder: 2 tracks x 1 song, approximately 5,000 notes total
GRAND PIANO 1 button, GRAND PIANO 2 button
Slide-type keyboard cover
Auto Power Off
Supported Casio Digital Piano models: AP-470、AP-270、PX-870、PX-770
CDP-S100、CDP-S150、CDP-S350、PX-S1000、PX-S3000

Some features, such as the available functions, screen displays and names, differ depending on the model.
Check the App Store or Google Play for information on supported OS and models.
Refer here also for information on what is needed for connecting the smart device and the piano and the connection method used.
Piano Remote Controller
Connect your smartphone or tablet to a compatible Casio digital piano to control various settings.
Select tone, play internal songs and more from the screen on your device.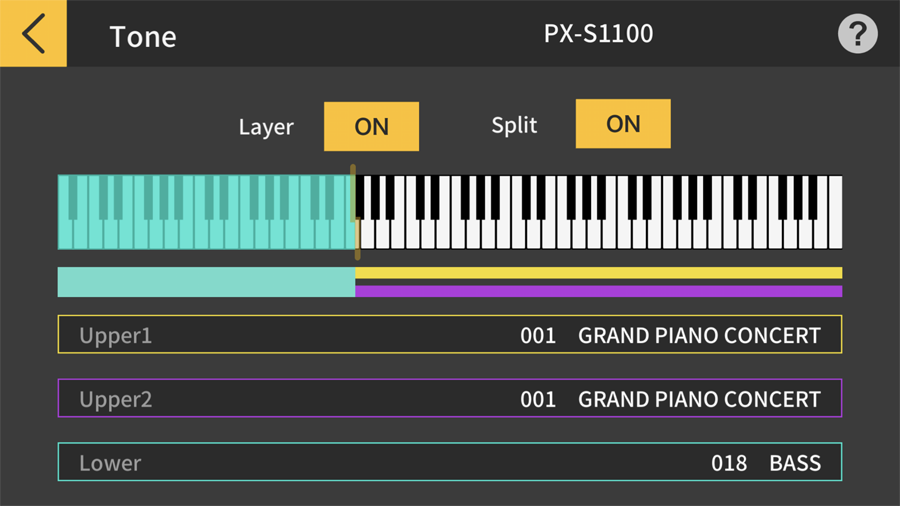 Use the easy-to-understand icons for intuitive control.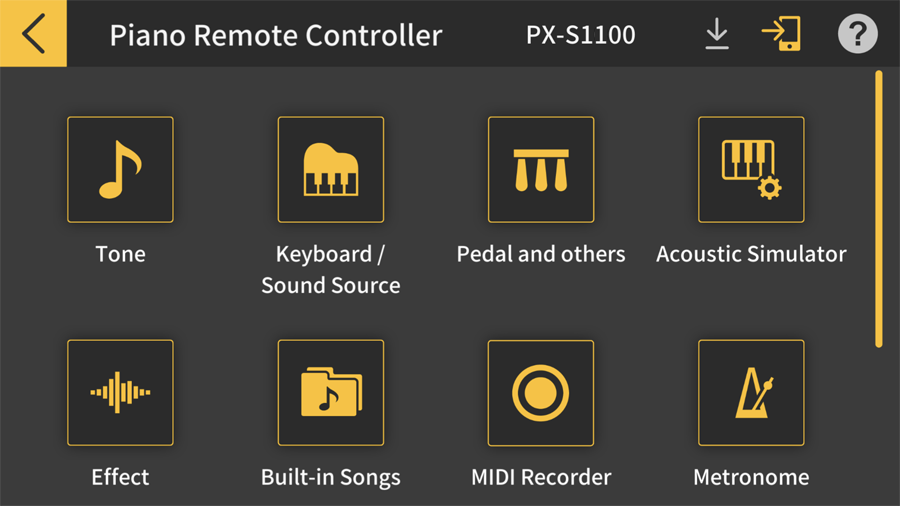 You can also check settings not directly visible on the instrument itself, such as the tuning frequency readout (Hz) and temperament type.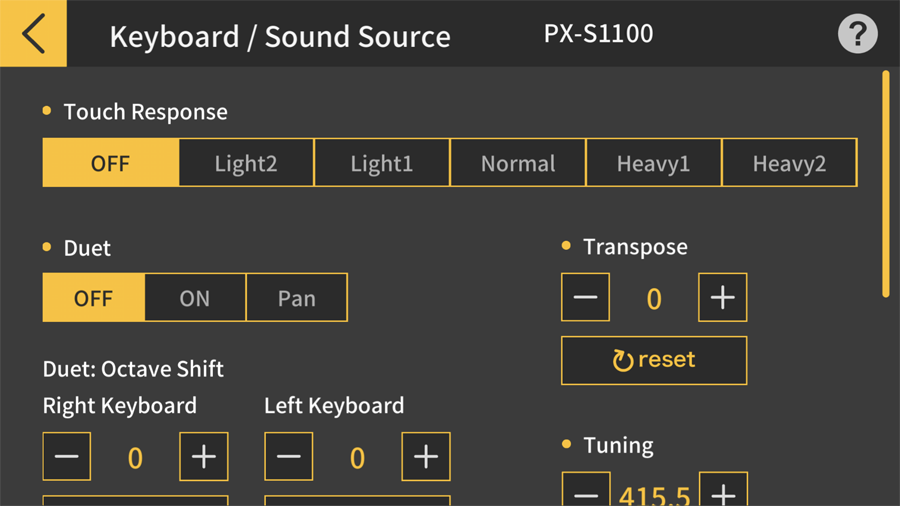 PDF Score Viewer
The viewer can display the PDF sheet music of 60 songs in the Music Library. It can also be used as a regular PDF file viewer.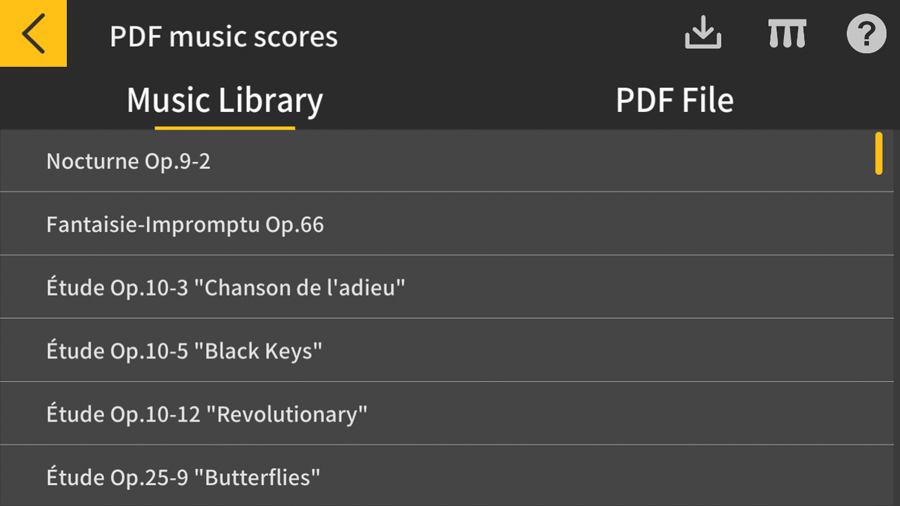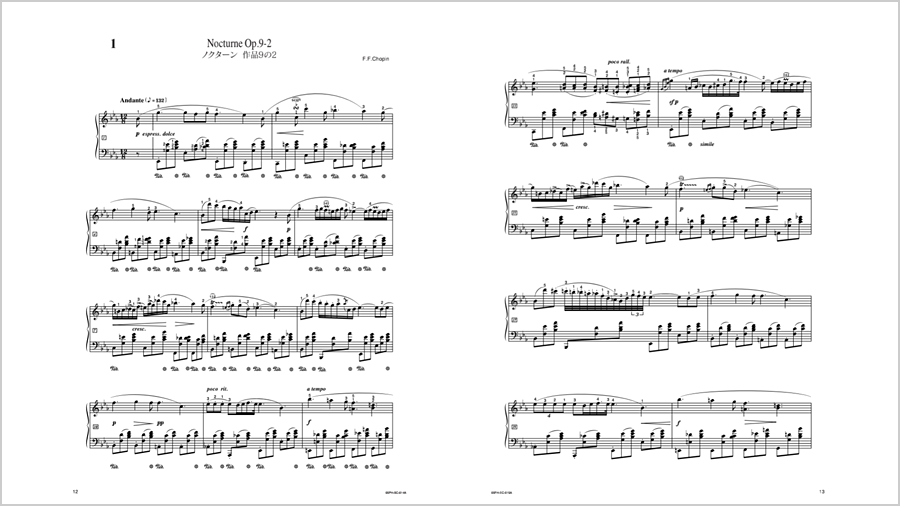 Connecting the smart device via a USB cable enables CDP-S100, CDP-S150, CDP-S350, PX-S1000 and PX-S3000 users to use the 3-pedal unit (SP-34) or the damper pedal (SP-3 single-pedal unit) as a page turner.
Users of models that do not support page turning can still access page-turning capability by using a third-party Bluetooth page turner.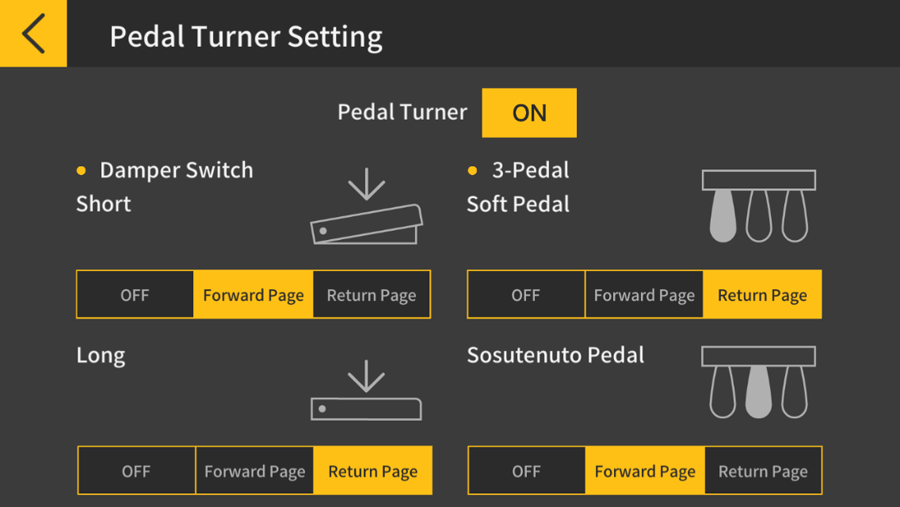 Descriptions of Built-in Songs
You can view descriptions for the app's built-in songs and for the composers.
Users of the models listed below can listen to the music library built into the piano.
AP-470, AP-270, PX-870, PX-770, PX-S1000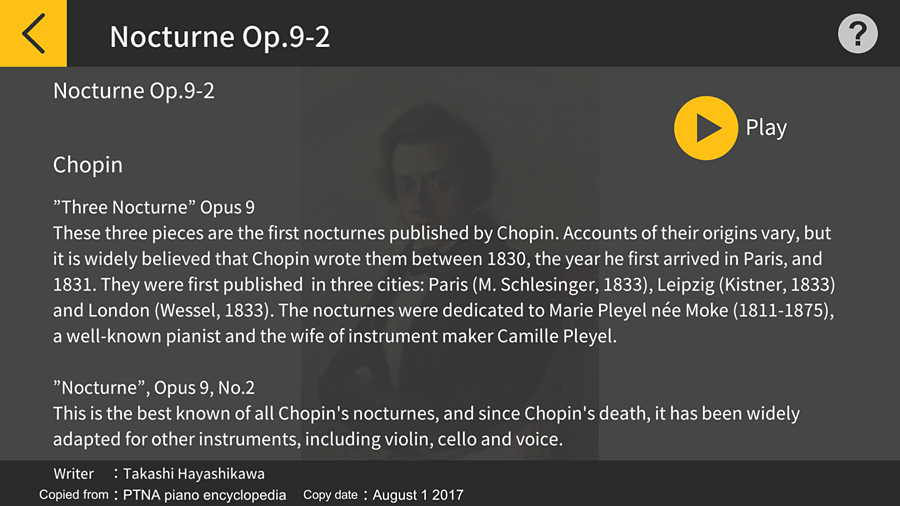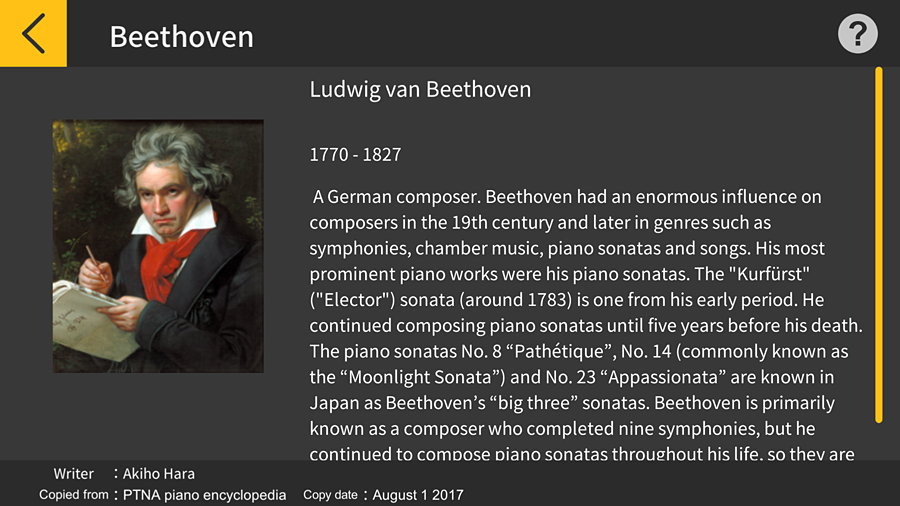 MIDI Player
Visually check the next key or keys to be played, and display them in the piano roll window. Play at your own pace using the tempo adjustment and AB repeat features. Keep track of your improving skills and make practicing more fun with the in-built scoring system.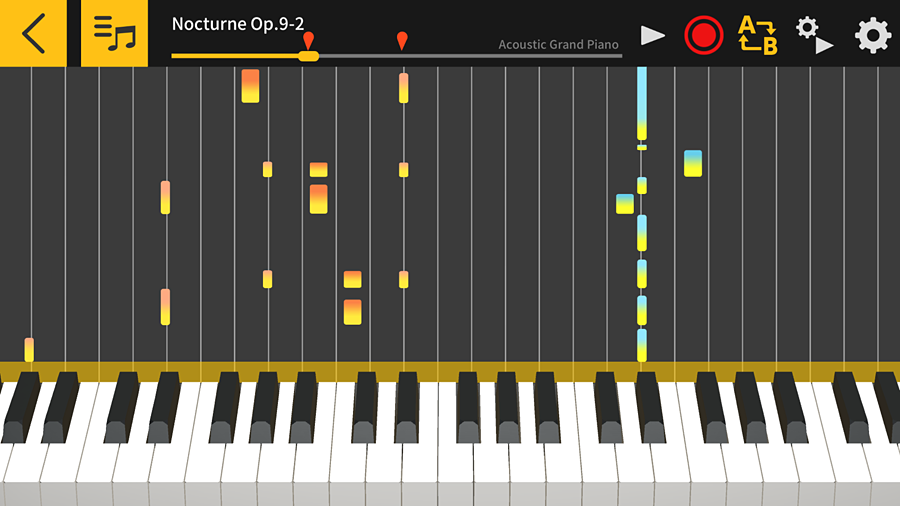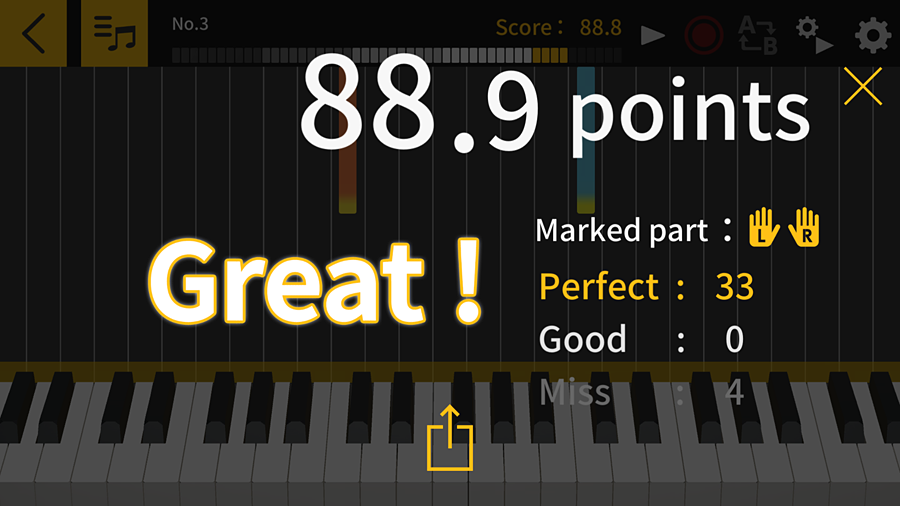 The app includes a music library with a collection of 60 songs that even beginners can enjoy listening to and playing, as well as Beyer's Vorschule im Klavierspiel Op. 101 (106 songs), Burgmüller's Easy and Progressive 25 Studies Op. 100 (25 songs), Bach's Inventions (15 songs), and Hanon Le Pianiste Virtuose en 60 Exercices (3 songs). You can also add your own MIDI files to supplement the internal song collection. Either search for MIDI files using your smartphone or tablet, or import MIDI files that you already own into the app.
*201 songs: Number excluding duplicates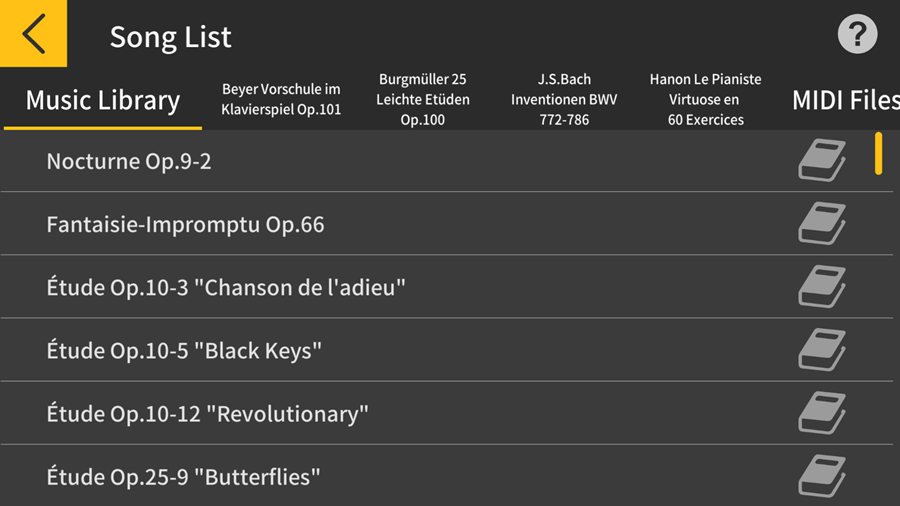 Audio Player
Play back audio on your device with musical tools such as key shift and tempo change, looping, and melody cancel.
* With some audio files, melody cancel may not be able to cancel the entire melody.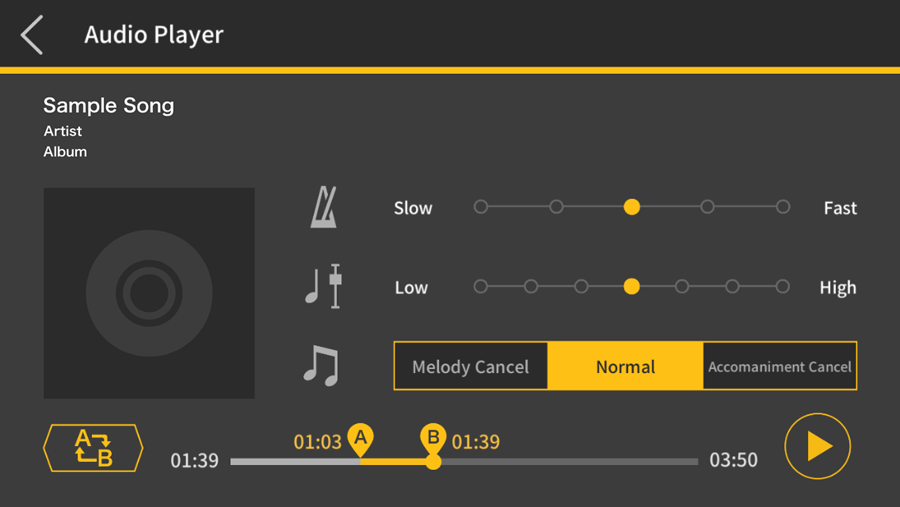 Keyboard

88-key, Tri-sensor Scaled Hammer Action Keyboard II, Simulated ebony and ivory keys

Touch Response

3 sensitivity levels, Off

Sound Source

AiR Sound Source
Damper Resonance, Hammer Response, Damper Noise

Maximum Polyphony

192

Tones

22 built-in tones: Grand Piano 1 (Concert, Mellow, Bright), Grand Piano 2 (Concert, Mellow, Bright), Modern Piano, Rock Piano, Jazz Piano, Elec Piano 1, Elec Piano 2, FM E. Piano, 60`s E. Piano, Harpsichord, Vibraphone, Strings 1, Strings 2, Pipe Organ, Jazz Organ, Elec Organ 1, Elec Organ 2, BASS (LOWER)

Layer/Split

Layer (Excluding bass tones), Split (Low-range bass tones only)

Digital Effects

Reverb (4 types), Chorus (4 types), Brilliance (-3 to 0 to 3), DSP (built into some tones)

Built-in Songs

10 (Concert Play), 60 (Music Library)

Song Expansion

10 songs (max.) Up to approximately 90 KB/song

Lesson Function

Part ON/OFF (Lesson part: Right hand/Left hand)

Metronome

Beats: 0 to 9 (Tempo range: quarter note = 20 to 255)

MIDI Recorder

2 tracks x 1 song, approximately 5,000 notes maximum, real-time recording/playback

Other Functions

Connection to App
GRAND PIANO 1 button, GRAND PIANO 2 button
Duet Mode
Temperaments (preset scale): Equal + 16 other types
Auto Power Off: Off after approx. 4 idle hours (default setting)
Octave shift: ±2 octaves
Operation Lock
Slide-type keyboard cover

Key Transpose

2 octaves (-12 semitones ~ 0 ~ +12 semitones)

Tuning Control

A4 = 415.5 Hz ~ 440.0 Hz ~ 465.9 Hz

Pedals

3 pedals (damper, soft, sostenuto)

*

 damper = on/off

MIDI

This product is not equipped with MIDI terminals. MIDI communication between the product and a computer is performed using the USB port.

Speakers

12cm x 2

Amp Output

8W + 8W

Input/Output Terminals

PHONES/OUTPUT x 2 (Stereo standard)
USB: type B
External power (12V DC)

* USB cable (A-B type) required to use USB terminal for computer connection.

Power Requirements

AC adaptor: AD-A12150LW

Dimensions (W x D x H)

1,417 x 432 x 821mm
(w/o music stand)

Weight

36.6kg

Body Color/Finish

AP-270BK: Black wood tone finish
AP-270WE: White wood tone finish
AP-270BN: Oak tone finish

Included Accessories

 Casio Piano Bench, AC Adaptor (AD-A12150LW), Music Stand
| | |
| --- | --- |
| Colours | Black, White, Brown Oak |
| Bundle Deal Options | Adapter + Headphones + Red Key Cloth + Grey Cleaning cloth + Casio Normal Bench, Adapter + Headphones + Red Key Cloth + Grey Cleaning cloth + Normal Storage Bench, Adapter + Headphones + Red Key Cloth + Grey Cleaning cloth + Normal Adjustable Height Bench, Adapter + Headphones + Red Key Cloth + Grey Cleaning cloth + Double Seated Storage Bench, Adapter + Headphones + Red Key Cloth + Grey Cleaning cloth + Adjustable Height Bench with Storage |
Save up to

13%

Save up to

$

254.00

Only

$

1,645.00

Rated 5.00 out of 5

$

1,645.00 –

$

1,704.00